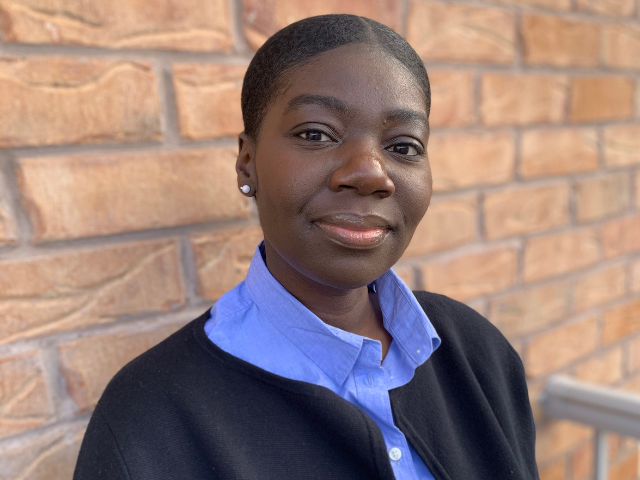 ***Article update effective September, 2021:
In May of 2021, the Toronto Maple Leafs of the National Hockey League created a new management program as part of their commitment to advance diversity and inclusion, and to help eliminate barriers within the game of hockey. In September, the Maple Leafs announced Marian as the successful candidate for their new program. SWSCD would like to congratulate Marian and we wish her the very best in her new role with the NHL's Toronto Maple Leafs. Head here to read the official announcement of Marian's hiring.***
Have you played sports your entire life? Maybe you are a student-athlete and wondering what kinds of sports careers are available to you? For women, considering a career in the sports industry can sometimes feel unattainable.
Women's sports are underfunded, undervalued and their leadership is often overlooked. In Canada, women hold only 1 in 5 senior positions within sports organizations and make up 40% of sports participants, but only receive 4% of sports media coverage.
Since progress has been slow, women are stepping up and driving the change they want to see through digital media. Look around and you'll see a growing number of women-led digital communities, sports podcasts, social media channels, and platforms dedicated to creating a sense of identity and giving voice to female athletes.
SeeWhatSheCanDo celebrates these local heroes and women trailblazers who are creating career opportunities for the next generation, changing how female athletes see themselves, and transforming how the world perceives what SHE can do. This story celebrates Ringette Ontario's Marian Ageyi-Gyamera who is breaking glass and creating a more inclusive sports world, one digital platform at a time.
Meet Marian Ageyi-Gyamera
As former student-athlete, Marian is using technology to build digital communities that elevate the voices of female athletes. She's taken her passion for sport and brand building to create opportunities for women-athlete focused stories that inspire others to embrace sport and physical activity.
As a marketing and communications specialist for Ringette Ontario Marian is responsible for marketing for over 60 local associations. Marian is a digital media strategist who has has taken her love for digital storytelling and turned it into a career. She uses her love of sports and digital savvy to help sports organizations, small businesses, and brands build digital communities and a social media presence.
From student-athlete to digital trailblazer - a "just do it" approach
Marian views the world of sports marketing as an opportunity to tell stories that inspire and empower female athletes to see themselves as more than just athletes. She is part of an emerging group of women who have decided to take charge and make space for themselves and future generations in a male-dominated sports industry.
"Last year, I had a really great opportunity to work with Lee Anna Osei as the program manager for a new initiative, the Black Female Coach Mentorship Program. It was founded by the BCCA but is run in partnership with the CAC. She brought me on board to help create the core values and aspects of this program, select the mentees, creating the application process, and putting together the program in terms of expectations from them."
Marian counts long-time friend and collaborator, Lee Anna Osei, amongst those that have encouraged her. As a mentor, Osei's taken her own challenges and channeled them into a passion for giving back to her community by developing programming and pathways for BIPOC coaches to gain more opportunities. She brought Marian in on her passion project The Black Canadian Coaches Association as a program manager and gave her the opportunity to learn the ropes and build a sustainable program that provides pathways to career opportunities. Some of the best advice she has given Marian over the years... "always put your best foot forward, go for what you want, and stay motivated." These words of encouragement provided a way for Marian to see how a growth mindset and jumping into action can carry you from challenges through to success. Near the end of her high school career, she weighed her options and wasn't seeing the types of opportunities she wanted for herself, so she created them.
Long before age of 30, Marian started making her mark in sports and has racked up an impressive list of projects along the way. The most personal to date is her work with Ringette Ontario. In her role as marketing & communications specialist, Marian oversees the creation of digital community and projects aimed at increasing engagement of female athletes and helping ringette players to see themselves represented in sports media. As a former student-athlete, Marian channels her love of community into creating paths for other female athletes to breakthrough the glass ceiling in sports careers. She's collaborating with other organizations to develop programs and media spaces needed to give female athletes the chance to break into the industry.
Crossroads and career paths
Marian's childhood dream was to be a sports agent. After high school, Marian was at a crossroads. She considered many different career paths. Going to Western University put her in the position to meet with people that helped her hone her passion and skills for giving back to community. Keeping an open mind led her to meet many people that inspired her, provided career advice, industry knowledge and lessons that strengthened her resolve to turn her passion for helping others into a career focused on building community in digital spaces.
She has only been out of university for five years, but, in a short amount of time, Marian has cultivated an impressive track record in creating and cultivating community. Success doesn't happen overnight. What keeps many women from pursuing non-traditional career paths is the obstacles and uncertainty of what lays ahead. For Marian, she credits Rich Paul, Lebron James' sports agent, for inspiring her to not only channel her love of basketball into a a career in helping athletes and organizations manage their brands, but also in motivating her to see other possibilities. She was inspired by his defiance against the old guard in the NBA, choosing instead to take a non-traditional path towards the top.
"Lebron James has a sports agent named Rich Paul. I remember seeing him and recognizing that for him making it to where he was, there wasn't some type of straight line. Normally when you go to school, they tell you to finish this degree and get that job. But Rich Paul never went to college. He just happened to meet Lebron James, and since he is a really good strategist and relationship builder he is now a sports agent for a ton of talented NBA players."
Marian also credits WNBA superstar, Candace Parker, for inspiring her to continue pursuing sports at the collegiate level and in her own life pursuits. Parker's determination to break through the glass ceiling for women in sports serves as an ongoing inspiration.
"From the women's perspective, college basketball was really a big thing for me. One athlete whose career I followed was Candace Parker. She played so hard that she graduated a year early. She really reaffirmed the importance of being a student-athlete to me. She went to the WNBA and dominated. Seeing where her career is at, she is flourishing off the court in her role as a sports commentator. What I enjoyed about the women's game is seeing how multifaceted their careers can become."
(Source: TNT Sport Broadcasting)
Using digital to kick-start a revolution
It takes more than just seeing representation in the media to kick-start a revolution. It takes personal mentorship, allies, and structural support at the amateur level to provide female athletes with the possibility to imagine themselves in leadership positions.

At the University of Waterloo and Western University, Marian gained that network of support. From working in the offices of the Athletics Department to gaining valuable insight into the sports industry from her professors, her takeaway was to not only broaden her scope of interest but also to further her education.
In sports she found purpose to build community. As a BIPOC student-athlete she's always had to look for new ways to do things. Nothing comes easily, but those early challenges were channeled into a quiet strength that comes from seeing her own parents and older sister succeed at whatever they put their minds to. Being the child of a pastor, and seeing her older sister build a successful business in Ghana, taught her that there are no rewards without sacrifice.
In many of the post-university internships she completed, that awareness gave her the strength to step up and create opportunities for herself where it was obvious the ceiling for women was very low. She's learned a great deal about making things happen for yourself. While interning at a basketball organization, the lack of coverage on female basketball games and the response from upper management on why women's sports weren't being covered, only fueled her desire to step up and create the content she wanted to see.
"To me that was crazy because, at that particular time, there were so many women and girls going to play college basketball in the United States. They were completely disregarded and under the radar. I asked why isn't this something we're covering and heard everyone's favourite line when it comes to women in sports including 'its not marketable' or 'there's no interest'."
Turning the challenges of a pandemic into opportunities for female athletes
When Marian first arrived at Ringette Ontario, the organization did not have a strong online presence. A once-in-a century pandemic had also halted many in-person plans for the ringette community, forcing her to regroup. Through this extraordinary disruption, the idea of building an online series took form.
Last fall, Ringette Ontario, in collaboration with SeeWhatSheCanDo, launched an online monthly Facebook and Youtube live series called Team Talk. This digital series captured the stories most important to the ringette community and encouraged conversations on what matters most to athletes, coaches, officials, leaders and supporters.
Marian's vision for the series was shaped by her ongoing passion for building community and in the knowledge that if there was any time that needed strong community connections to be in place it was during a global pandemic. For Marian, a significant challenge or bump in the road is really just an opportunity to think differently and learn new ways to get to the final destination of any given journey.

Careers & Sport - More from SeeWhatSheCanDo
SeeWhatSheCanDo
Find ringette programs and organizations including Ringette Ontario in our Athlete Advisor, your online athletic business directory. Find, rate and review ringette programs, local community offerings and businesses that will help you do your thing.
Need a place to coordinate and connect with your ringette team? Start a ringette group on our SWSCD Hub.
Look for advice, stories, news and more on our Ringette activity page.
Share your ringette moments directly on our Discover blog or by using #seewhatshecando on social media and inspire others to play and watch ringette.