In 2020, Google released an ad for Black History Month, The Most Searched: A Celebration of Black History Makers that put the spotlight on past and present-day African-American legends and icons.
In 1:30 seconds Google honoured "the history makers and those they inspire to search on" in clips showing the "most searched" cultural leaders of the past who invented, shook the table and demanded changes. Today, sports dominate popular culture and African-American athletes are powerful cultural leaders.
From the most searched tennis player (Serena Williams), to the most searched athlete (Lebron James), and gymnast (Simone Biles), many of the most visible leaders come from the universal world of sport.
Sports bring people together, empowering and uplifting communities. It also gives voice to the invisible, underserved and underrepresented. Here in Canada, many BIPOC (black, Indigenous and people of color) individuals do not see themselves in the cultural leaders that general sports media props up. The absence of representation in the Canadian sports media creates a gap in what BIPOC youth see in opportunities to participate in sports. We cannot be what we cannot see.
At SeeWhatSheCanDo, we celebrate local BIPOC athletes and the impact that their sport achievements are making beyond sport in the lives of their peers and fellow athletes. The underrepresentation of young BIPOC female athletes is one problem we would like to shine the spotlight on. Canadian media focuses on athletes after they have made it to the pros, but if we do not celebrate the local athletes, heroes and emerging cultural leaders in underrepresented communities, the gap will widen on the absence of not only female participation in sport but also racialized female athletes.
It is normal not to see female athletes in mainstream media coverage, publications and in sports culture. Changing that begins with uncovering stories and celebrating the achievements of female athletes in our communities at the amateur and pro level, and their contribution to their community beyond sports.
The Power of Sport for Health, Relationships and in Building Doors to the Future
Meet Naomi Ashley, originally from Hamilton, Ontario, Canada. Before becoming a Division 1 NCAA Women's Basketball player for Bryant University in the NCAA's Northeast Conference her multi-sport background helped her learn to never stop competing.
She uses her collegiate sport experience as a BIPOC athlete to help student-athletes be supported through challenges and adversity. Her lifelong passion for competing developed into a passion for sports psychology and the desire to better serve student-athletes by addressing gaps in the collegiate-level support network.
In this interview, we cover a number of topics relating to Naomi's experience as an international BIPOC student-athlete competing within the American NCAA sports system. We discuss her passion for sport and how she's turned it into a career in higher education. Naomi also shares what it means to be an athlete and and why its important to create opportunities outside of sport for the next generation. She offers advice to help keep younger BIPOC female student-athletes in sport beyond their childhood years and explains the benefits and impact of sport in career success.
How has sports shaped what you are doing in your career now? And who was your role model growing up?
I first started playing sports when I was four years old. My mother put me in everything – basketball, soccer, Tee-ball. Growing up one of my biggest role models surprisingly as a female athlete, was not necessarily a female athlete.
I looked up to Vince Carter. When I was growing up in the early 2000s – he was a part of the Toronto Raptors (my favourite team). I naturally gravitated towards his work ethic and wanted to embody that.
How have sports shaped your educational pursuits and career?
In terms of my career aspirations, I went into a whirlwind of things. Since I was a kid, I wanted to be a veterinarian. I loved animals and when I went to college, I became a general biology major. I ended up getting a Bachelor of Science in Biology, and along the way took some applied psychology courses.
I found studying human behaviour to be interesting. I took a sports psychology component as one of my courses and fell in love with it.
During my undergrad, I also added a Bachleor of Arts in Applied Psychology as a major and graduated with two complementary degrees. Currently I am going to Providence College to get a Master of Counseling in Higher Education among College Athletics.
I would love to get into sports psychology. I am currently working at my alma mater at Bryant University in the Athletics Department and aim to be more hands on for student-athletes through sports psychology as a mental skills coach.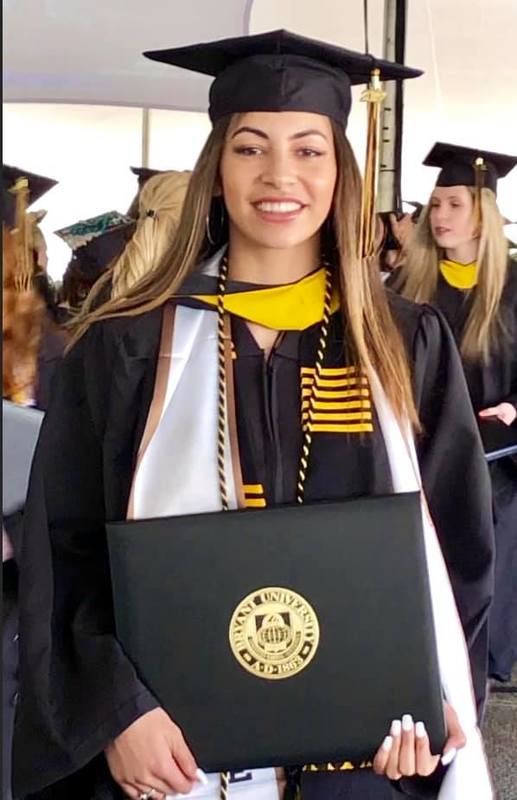 In 2019, a group of students created the student organization WOKE Athletes. You Performed a spoken word poem "The Gap" at the organizations talent show. You stated, "if you don't see my blackness you don't see me" – how did sports help you to navigate race on campus and the limited idea people have of what black athletes can do and what they can be?
There is a lot of intersectionality for me because I am a woman. I identify as a person of colour because I am half-black and half-white. I am a student-athlete at a PWI. There is a lot of intersectionality there that works against me. I am a minority in that sense. I am a minority as a woman and person of colour.
I have had to overcome obstacles that some people may be unfamiliar with because they might be a black man and student athlete, but do not know what it means to be a woman and be all those things. Vice-versa, you could be a person of colour and just be a regular student, but not a student-athlete.
A lot of those experiences were grouped in this intersectionality. It was difficult. Although I was raised by my white mom, she made sure I had all the resources I needed that ties back to my history and what it means to be a person of colour currently.
Going into an institution there were very few people looked like me in my classes. As a person of colour, I was the token that people would turn to and ask what I thought. You do not want to be the one to speak for all people of colour.
When you talk about The Gap instead of shying away from being put in that spotlight, I embraced it. I talked about my experience and put it into a spoken word poem The Gap in a way that I went through campus and the way I felt during that time. I put it in the form of art so that a lot of people could understand it and interpret it in their own way. I have really taken it all in and decided to be a voice for myself and for people that look up to me because I am on this platform.
How was the transition from playing in high school to playing in another country?
The first year was difficult. The grading system is very different in the USA. I didn't have anybody tell me that, so I struggled academically my first year. Going from high school where I played all those games, all those minutes, and was a valued athlete on that team to a team where I had to work hard to get a playing position was also a challenge.
During that time, I had two older Canadians on the team. I had played against them in a league back home in Ontario. They guided me, but they didn't have all the answers either. I had to figure out a lot of things on my own.
Did you find support in the form of mentorship as an international student-athlete?
Woke athletes started in Spring 2019. I felt that was perfect group for me especially with issues of diversity. That was the most support I got from an external group.
What kinds of lessons did you learn from your college coaches that helped you to become a better athlete?
One of the biggest things I learned is that there is always going to be some type of adversity. Whether that is the other team and they're better than you or a teammate that you have to outplay to get more playing time. It may even be fans in the stands heckling you so that you miss that free throw.
I think I learned that the fruits of my labour are that much sweeter when I faced adversity in whatever form that came. I ran with it and worked my butt off to get the starting position. I learned that from my coaches, teammates and my mother.
How did get recruited from amateur basketball to Division 1 basketball?
Back then, women's basketball was still on the come up. So how it worked was that there are AUU tournaments that international teams and Canadian teams go to in the United States. This is where we got to showcase our skills for recruiters. We went to a bunch of tournaments down in Florida and D.C.
Several of my teammates ended up being recruited as well and getting scholarships.
Are there any other sports outside of basketball that helped you to stay focused and never stop competing?
I played every sport in high school. Another sport I really got serious about at the age of 12-13 was track and field. I was always fast but never really applied myself until high school. It's an individual sport. If you win the race that is on you, your coaches and hard work. If you lose the race, its because you did not work hard enough. So, it was a very different realm than being in team sports.
I learned how to be resilient. I learned how to not get too down on myself and work harder for the next one.
In grade 9, I came in third for OFSAA. The next year I won. I learned how to keep going. I focused on not being intimidated by the idea that I did not get there, and put in the work to get there the next time. That is what I did my freshmen year of college.
I did not play my first year of basketball. I did not see one minute. If we were killing teams by 20 or losing by 20, I did not see any second. But I said, next year I will play and got 10 games. But 10 games are not enough for me, I wanted to be a starter. The next year came and I did not play in the first couple of games, and after working my butt off, I became a starter.
During your time on the women's basketball team you played a combo guard (point and shooting guard). What was your favourite part of playing that position and duties of being a 2 on 3 guard?
My main responsibility was being a defensive specialist. I guarded the hardest girl on the court – the girl that scored the most points on average. I never had a break. I was in top condition all the time; you could never be tired being in my position. I guarded the full court every game. Being on defense and getting those steals led to baskets, that hustle led to baskets and assists for my teammates.
Girls dropout of sports at 3 times the rate of boys in their teen years. For girls self-identifying as BIPOC, the Rally report found that as little as 24% are self-reporting that they participate in sports. What advice do you have for young BIPOC girls to join or continue participating in sports?
I think its important for girls especially girls of colour to continue playing sports. It can open so many doors for them. It's not only great for your health and building new relationships, it can build doors to your future. Not only is it benefiting you, its also benefiting other people. You don't know who is looking at you when you're playing on the soccer field. Even when you are 10 years old and playing on the soccer field, your sibling sees that and they are inspired to participate in sport.
But, the scope can also be so much bigger than that. I think its important to continue playing sports because you can touch so many other people at the same time.
SeeWhatSheCanDo
Check out the SWSCD Athlete Advisor, your online athletic business directory. Find, rate, and review programs, local community offerings, and businesses that will help you do your thing.
Start a group around a physical activity in your neighbourhood. Explore events. Check out our SWSCD Hub.
Look for advice, stories, news and more on our Basketball activity page.
Tell us about your favourite way to get yourself moving. Share your highlights directly on our Discover blog or by using #seewhatshecando on social media and inspire others to get active.