See How She Got Started in the OUA
Anchored in the efforts to spotlight Ontario University Athletics (OUA) student-athletes, the initiative See How She Got Started showcases and tells the story of how some of the conference's talented student-athletes first got involved in sport and have made their way to the varsity stage on which they currently shine. It is also hoped that their stories can inspire young athletes to aspire to compete in varsity-level sports.
Meet OUA Student-Athlete Olivia Giardetti
University -
Toronto Metropolitan University
Sport -
Year of Eligibility -
6th Year
Hometown -
Whitby/Caledon, Ontario
Program of Study -
Masters of Business Administration (MBA)
How did you first get involved in your sport?
I first got started in hockey when my mom signed me up for boys' house league hockey at the age of 7 years old. I was a little late to the game for starting the sport but, after once I got the chance to play for the first time, I loved it.
What most interested you about your sport that made you want to pursue it at a high level?
Hockey is a sport that is focused on teamwork and having everyone on the same page working towards a common goal. I also enjoy the social aspect of the game and having friends that you got to see every day. I also appreciate how these same friends will play a critical role in pushing you to be the best athlete you can be.
Was there a specific moment/experience that led you to believe you could compete in your sport at a high level, and if so, what was it?
Truthfully, I did not see myself playing hockey at the university level because I did not think I was good enough or had the most talent. But, when I made the junior team in the 11th grade, it motivated me to pursue a scholarship. I also saw earning a university sport scholarship as an opportunity to show my parents the appreciation I had for them always driving me to practice and games. It was a chance to contribute to my education and that was important to me.
What is your fondest memory/experience of being involved in your sport thus far?
Being in my last year, I don't think there is one specific memory. The five years playing on the Toronto Metropolitan University (previously Ryerson) women's hockey team have been filled with many fond memories. So many of them come to mind. Also having the opportunity to go to the rink every day and train at the amazing facilities we enjoy at the TMU is something I will always appreciate. There is something very special about being a varsity athlete. My experience as a whole will be the memories I'll look back on and cherish.
Is there someone who inspires you to continue to pursue your sport at this high level (i.e., coach, professional athlete, family member, etc.) and what makes them an inspiration to you?
My dad was a big inspiration to me. While he never played hockey specifically at a high level, he has shown me the importance of strong work ethic and always giving your best all the time to achieve goals. He works extremely hard at his job and it has inspired me to work just as hard at my sport.
My mom is also inspirational to me because often she would push me to try out for a higher-level team even when I didn't think I was good enough. She always saw potential in me that I didn't always see in myself. I'm extremely grateful for her for having the confidence in me as a player.
What excites you most about continuing your athletic journey at the varsity level within the OUA?
This year, I focused on playing out my eligibility and experiencing the most amount of fun possible. I have always taken my sport seriously and I will continue to do so. But, I'm more aware of the honour it is to be a student-athlete in the OUA and to have the chance to play at such a high level. I didn't want to take anything for granted during my last year of playing. It was important for me to leave my sport on a positive note and to look back with no regrets.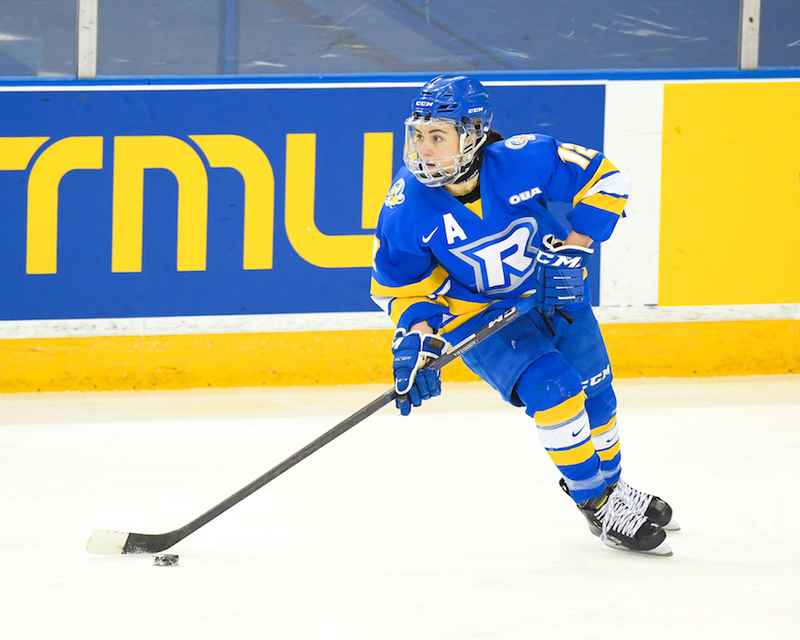 What is/are some of the more unique aspect(s) of your sport that others may not know about?
I think one of the most unique things about hockey is that there are normally multiple people that can play your position which is why it's critical to have a team mindset when playing. For example, there isn't just one goalie, or one forward that can make a team win games or championships. Every single person needs to be working their hardest in order for the team to be successful.
If someone else was looking to start playing your sport, what one piece of advice would you give them to get them started?
I would tell that person to know not think too much about how your own play compares to those players around you. It's important to appreciate that hockey is a sport where there are multiple different styles of play. If you want to be a super fast skater, then focus on developing those skills so that you can be confident with your ability to skate well. As you develop, you can choose to spend time on getting better at other skills as well in addition to that part of "your" own game that you can be proud of as a player.
What is one critical thing that you do to try to continue to experience improvement within your sport (i.e., specific drill/exercise, training regimen, routine, etc.)?
Becasue I am a high-intensity athlete, I do believe that there will always be opportunities to improve in all aspects of your game. For me personally, I like to focus on always giving 100% in the gym and during practice so that I capitalize on all of the opportunities we are given to make myself stronger and more skilled.
It's also important to recognize that time goes by so fast. With each year I've played, I've recognized how fast time does goes by. You truly don't realize how fortunate you to have what you have until the end.
What would you say to your 10-year-old self about playing and staying in sport?
I would tell my 10-year-old self that i'm proud of you. I would tell her that the opportunity to play hockey has helped me to learn so many important life skills. It's also taught me more about myself than I could have ever imagined. When I was 10 years old, I don't think I would have pictured myself still being a varsity athlete. I saw hockey as more of a fun thing that I got to do. Looking back, I'm thankful for my family for always motivating me and encouraging me to get to this point.
Is there one strategy that you find works well for you in creating a positive student/athlete balance in your life?
Time management is crucial. I keep track of all my meetings, practices, games, classes and everything else in my planner. It helps me stay on track and ensure I don't miss important deadlines or double-book myself.
It's also important to know when to say "No" to things like hanging out with friends when you have to complete some school work or accomplish a goal you have set for yourself.
Finally, having friends in a similar program that you can study and make memories with together has created a positive student/athlete balance in my life.
SeeWhatSheCanDo
Head to the SWSCD Athlete Advisor, your online athletic business directory. Find, rate and review programs, local community offerings and businesses that will help you do your thing.
Start a group around a physical activity in your neighbourhood. Explore events. Check out our SWSCD Hub.
Look for advice, stories, news and more on our Ice Hockey activity page.
Have a sport, recreation or physical activity accomplishment you'd like to celebrate and shout out through SWSCD? Become a SWSCD member and share your story directly on SeeWhatSheCanDo. Or, simply add the hashtag #seewhatshecando to your public social media posts and SWSCD can help you inspire others around you.