See How She Got Started in the OUA
Anchored in the efforts to spotlight Ontario University Athletics (OUA) student-athletes, the initiative See How She Got Started showcases and tells the story of how some of the conference's talented student-athletes first got involved in sport and have made their way to the varsity stage on which they currently shine. It is also hoped that their stories can inspire young athletes to aspire to compete in varsity-level sports.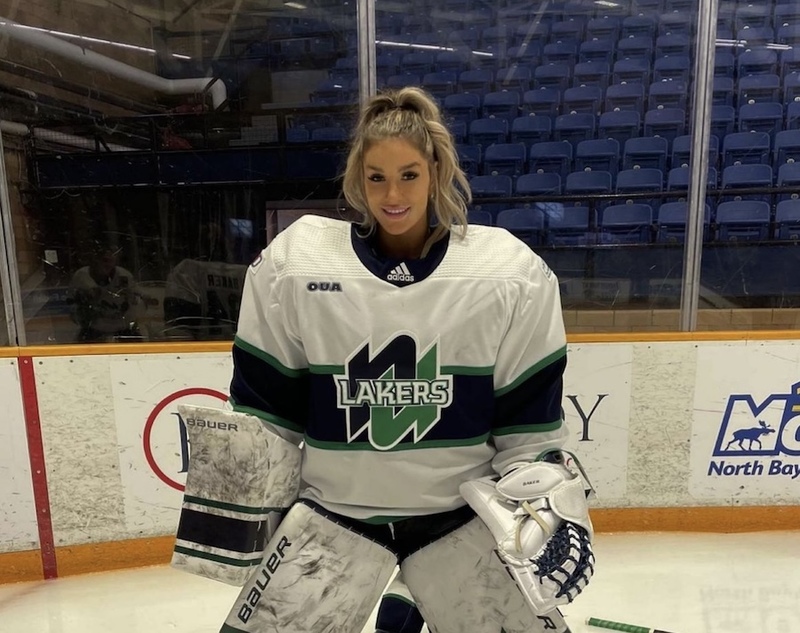 Meet OUA Student-Athlete Bryanne Baker
University -
Sport -
Year of Eligibility -
1st Year
Hometown -
Exeter, Ontaro
Program of Study -
Business
How did you first get involved in your sport?
I got involved in hockey at a very young age. My dad and older brothers played hockey, so I was basically born into the sport. My dad coached me throughout minor hockey, and taught me how to skate. We would actually watch hockey highlights (TSN) every morning before school and NHL games at night. I started playing when I was 4 as a centreman and then switched to being a goalie about 7 years ago.
What most interested you about your sport that made you want to pursue it at a high level?
Hockey has always been a very large part of my life. Obviously, starting as a goalie later than most, I had to work even harder to play at a high level to 'catch up' to others. I love the challenge to constantly get better on and off of the ice, and the feeling I get when I play. Ever since I started playing hockey, I knew that I wanted to continue to play and make it to the highest level possible.
Was there a specific moment/experience that led you to believe you could compete in your sport at a high level, and if so, what was it?
A specific experience I had happened when I was younger and during my tryouts for the Stratford Aces A team and when I became the starting goalie my first year of playing the position. From then on, I knew I had the drive and passion to compete at a high level. It definitely opened my eyes to what was possible in hockey.
What is your fondest memory/experience of being involved in your sport thus far?
Throughout my 16 years of playing hockey, I have made endless memories with my family, teammates, and coaches. Such memories include winning big tournaments, laughing in the dressing room, and committing to play with Nipissing University. Committing to Nipissing University would definitely be my fondest memory. When I first started, I dreamed about playing at the collegiate level while I watched my cousins play Division 1 ice hockey at Clarkson University and played for the Olympic team. It was a dream I was determined to turn into reality, but I wasn't sure it was possible. I could not have done it without my coaches, family and teammates.
Is there someone who inspires you to continue to pursue your sport at this high level (i.e., coach, professional athlete, family member, etc.) and what makes them an inspiration to you?
My mother has always been an inspiration to me. Although she never played hockey, her determination, drive, and passion has always inspired me and I think that is where I get it from. She has overcome a lot throughout her life, and if it was not for her drive and determination, she would not be the successful and strong woman she is today. I will always look up to my mother for the amazing things she has done for me, her career, and family.
What excites you most about continuing your athletic journey at the varsity level within the OUA?
I am excited about many things as a first year student-athlete. These include how my athletic journey continues at the OUA level; meeting new friends; having amazing coaches; and competing at a very high level. I think what excites me most is the work that's still to come.
What is/are some of the more unique aspect(s) of your sport that others may not know about?
Hockey is a very fast, physical, and high intensity game. It's a challenging sport that can be hard to keep up with because of the speed and contact.
If someone else was looking to start playing your sport, what one piece of advice would you give them to get them started?
One piece of advice I would give someone who was looking to play hockey would be to never stop working. There will be times when you get cut from the best team and you cannot let that discourage you. Keep your head held high and continue to put in the work on and off of the ice.
What is one critical thing that you do to try to continue to experience improvement within your sport (i.e., specific drill/exercise, training regimen, routine, etc.)?
One critical thing I do to continue to improve with hockey is my around my on ice and off ice training. The specific training done off ice will translate into how I play my game; from explosiveness, hard pushes, power, etc. As a goalie, my off ice and on ice training must work together and go hand in hand.
What would you say to your 10-year-old self about playing and staying in sport?
My 10-year-old self was still a player, but I would tell myself to believe in myself more and believe that I am capable of competing at a high level. Something I struggled with growing up was the confidence in my game. I do think that if I had believed in myself more at that time, my game could have benefitted from this greater sense of confidence.
Is there one strategy that you find works well for you in creating a positive student/athlete balance in your life?
One strategy for creating a positive student/athlete balance would be good time management skills. There will be times when you have to do school for hours on the bus ride to a game or wake up at 6am to study before practice. It important to prioritize and find time for the stuff that needs to get done while still performing well.
SeeWhatSheCanDo
Head to the SWSCD Athlete Advisor, your online athletic business directory. Find, rate and review programs, local community offerings and businesses that will help you do your thing.
Start a group around a physical activity in your neighbourhood. Explore events. Check out our SWSCD Hub.
Look for advice, stories, news and more on our Ice Hockey activity page.
Have a sport, recreation or physical activity accomplishment you'd like to celebrate and shout out through SWSCD? Become a SWSCD member and share your story directly on SeeWhatSheCanDo. Or, simply add the hashtag #seewhatshecando to your public social media posts and SWSCD can help you inspire others around you.