See How She Got Started in the OUA
Anchored in the efforts to spotlight Ontario University Athletics (OUA) student-athletes, the initiative See How She Got Started showcases and tells the story of how some of the conference's talented student-athletes first got involved in sport and have made their way to the varsity stage on which they currently shine. It is also hoped that their stories can inspire young athletes to aspire to compete in varsity-level sports.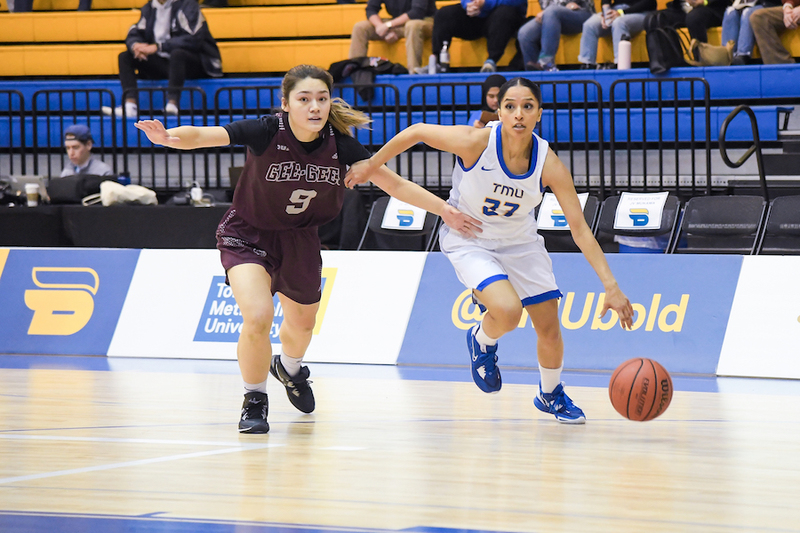 Meet OUA Student-Athlete Tiya Misir
University -
Toronto Metropolitan University
Sport -
Year of Eligibility -
4th Year
Hometown -
Markham, Ontario
Program of Study -
Business
How did you first get involved in your sport?
I first got involved in sports through playing with the boys at recess in basketball. They constantly told me that I would never be as good as them which motivated me to be even better than them.
What most interested you about your sport that made you want to pursue it at a high level?
I believe my competitive nature and passion to want to be the best player wherever I go really pushed me to work as hard as I could to make my dreams a reality.
Was there a specific moment/experience that led you to believe you could compete in your sport at a high level, and if so, what was it?
I believe the specific experience was when I was that young girl trying to prove herself to the boys at recess. I would also take my computer and search up ball handling videos on YouTube while everyone else ran around. I knew that my drive was different at a young age and I knew that with that drive I could achieve anything that I wanted.
What is your fondest memory/experience of being involved in your sport thus far?
Two moments that definitely stand out in my head would be signing my national letter of intent to play Division I basketball at Long Island University as well as winning the National Championship this past season with Toronto Metropolitan University (formerly Ryerson University).
Is there someone who inspires you to continue to pursue your sport at this high level (i.e., coach, professional athlete, family member, etc.) and what makes them an inspiration to you?
Definitely my Mom and Dad. These are the two most hardest working people that I've ever met and I just want to continue to make them proud. Their resilience inspires me so much to keep pushing whenever adversity comes my way.
What excites you most about continuing your athletic journey at the varsity level within the OUA?
What excites me the most is working with such a talented and competitive group of women every single day that push me to be a better player and person. They are amazing people and I am excited to be on this journey with them.
If someone else was looking to start playing your sport, what one piece of advice would you give them to get them started?
The best advice that I would give them is to work on their cardio first because everything else is becomes so much easier after that.
What is one critical thing that you do to try to continue to experience improvement within your sport (i.e., specific drill/exercise, training regimen, routine, etc.)?
Something that I always try to do would be working on my ball handling skills every day. I am a short point guard so I have to be able to control the ball and keep my eyes up while directing my team, so it's important that my ballhandling skills are as sharp as possible.
What would you say to your 10-year-old self about playing and staying in sport?
I would remind my 10-year-old self that basketball is just a game and to always remember why I started playing, which was because it's a fun game.
Is there one strategy that you find works well for you in creating a positive student/athlete balance in your life?
One strategy that I would say would be to plan my assignments out Sunday night on a checklist and use that checklist every day to see what needs to be done and where I can fit it in between practices.
SeeWhatSheCanDo
Head to the SWSCD Athlete Advisor, your online athletic business directory. Find, rate and review programs, local community offerings and businesses that will help you do your thing.
Start a group around a physical activity in your neighbourhood. Explore events. Check out our SWSCD Hub.
Look for advice, stories, news and more on our Basketball activity page.
Have a sport, recreation or physical activity accomplishment you'd like to celebrate and shout out through SWSCD? Become a SWSCD member and share your story directly on SeeWhatSheCanDo. Or, simply add the hashtag #seewhatshecando to your public social media posts and SWSCD can help you inspire others around you.