See How She Got Started in the OUA
Anchored in the efforts to spotlight Ontario University Athletics (OUA) student-athletes, the initiative See How She Got Started showcases and tells the story of how some of the conference's talented student-athletes first got involved in sport and have made their way to the varsity stage on which they currently shine. It is also hoped that their stories can inspire young athletes to aspire to compete in varsity-level sports.
Meet OUA Student-Athlete Lauren Lee
University -
Royal Military College of Canada (RMC)
Sport -
Year of Eligibility -
2nd Year
Hometown -
Guelph, Ontario
Program of Study -
Computer Science
How did you first get involved in your sport?
The St. Jean campus of RMC had a club and fencing has been always a sport that I was interested in trying out.
What most interested you about your sport that made you want to pursue it at a high level?
Since it's a combat sport and I don't have much experience but I wanted to challenge myself to pursue it at a higher level.
Was there a specific moment/experience that led you to believe you could compete in your sport at a high level, and if so, what was it?
I would say earning a spot on the RMC team that helped me to believe I could compete at a high level.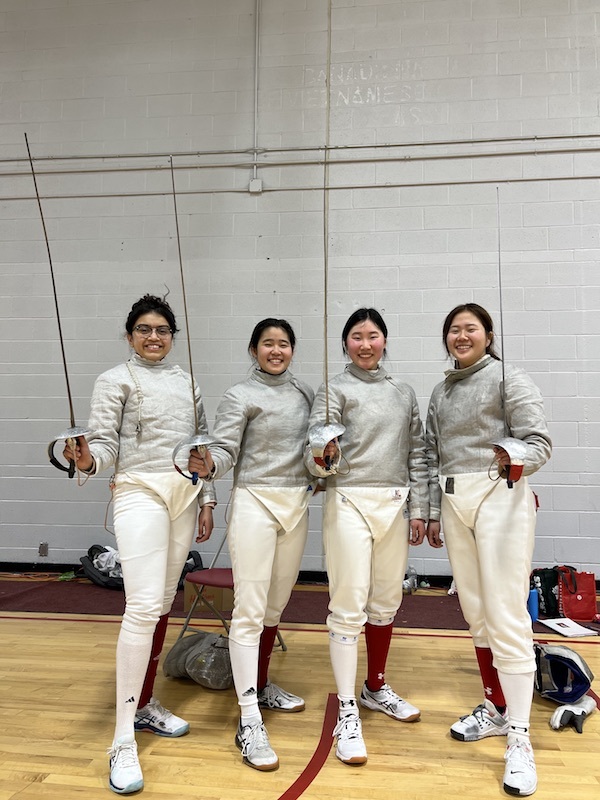 (Lauren - far right)
What is your fondest memory/experience of being involved in your sport thus far?
I have only started femcing competitively this year so I haven't really created too many memories just yet. But after every practice and private lesson, I do realize how much I love fencing.
Is there someone who inspires you to continue to pursue your sport at this high level (i.e., coach, professional athlete, family member, etc.) and what makes them an inspiration to you?
I think a lot of people do inspire me - there's too many people to name. The fact that they've committed to a sport and have worked hard is truly amazing.
What excites you most about continuing your athletic journey at the varsity level within the OUA?
I enjoy improving and meeting new people. I also really enjoy having the ability to go to competitions and learn more about my sport.
What is/are some of the more unique aspect(s) of your sport that others may not know about?
Fencing is applicable at RMC because of the sword drill.
If someone else was looking to start playing your sport, what one piece of advice would you give them to get them started?
I would tell them to just try out. You don't lose anything and gain the chance to have a new experience.
What is one critical thing that you do to try to continue to experience improvement within your sport (i.e., specific drill/exercise, training regimen, routine, etc.)?
My coach told me to take notes after practices and it's been a good revision tool.
(Lauren - third from the left)
What would you say to your 10-year-old self about playing and staying in sport?
I would tell my 10-year-old self that the moment you want to quit, don't quit. The urge will pass. And don't forget all your hard work too.
Is there one strategy that you find works well for you in creating a positive student/athlete balance in your life?
It's important to have the set discipline to do things when you're unmotivated. It's hard at first, but, if you think about why you're doing it, it'll come together. It's okay to be discouraged but don't make that hold you back.
(Lauren - far right)
SeeWhatSheCanDo
Head to the SWSCD Athlete Advisor, your online athletic business directory. Find, rate and review programs, local community offerings and businesses that will help you do your thing.
Start a group around a physical activity in your neighbourhood. Explore events. Check out our SWSCD Hub.
Look for advice, stories, news and more on our Fencing activity page.
Have a sport, recreation or physical activity accomplishment you'd like to celebrate and shout out through SWSCD? Become a SWSCD member and share your story directly on SeeWhatSheCanDo. Or, simply add the hashtag #seewhatshecando to your public social media posts and SWSCD can help you inspire others around you.