See How She Got Started in the OUA
Anchored in the efforts to spotlight Ontario University Athletics (OUA) student-athletes, the initiative See How She Got Started showcases and tells the story of how some of the conference's talented student-athletes first got involved in sport and have made their way to the varsity stage on which they currently shine. It is also hoped that their stories can inspire young athletes to aspire to compete in varsity-level sports.
Meet OUA Student-Athlete Serena Uppal
University -
Sport -
Year of Eligibility -
2nd Year
Hometown -
Oakville, Ontario
Program of Study -
Integrated Science
How did you first get involved in your sport?
My grade nine French teacher was the coach and she heard that I played ice hockey. She said that I should tryout for the field hockey team, so I did and I ended up making it. I continued to play throughout high school and then my coaches told me to tryout for the team at McMaster University.
What most interested you about your sport that made you want to pursue it at a high level?
Field hockey was similar to ice hockey in some ways which I really enjoyed. I also loved how it is a small community where everyone seems to know each other.
Was there a specific moment/experience that led you to believe you could compete in your sport at a high level, and if so, what was it?
There was never a specific moment. But I think the entirety of my high school experience allowed me to gain confidence in the sport and my abilities. After I graduated, I believed that I could compete at the next level.
What is your fondest memory/experience of being involved in your sport thus far?
I think for me the positive environment and community is unmatched in team sports. Some of the best memories I have are spending time with my teammates. We always have so much fun during practices, games, and outside of field hockey.
Is there someone who inspires you to continue to pursue your sport at this high level (i.e., coach, professional athlete, family member, etc.) and what makes them an inspiration to you?
My coaches at McMaster are a big inspiration to me. They are extremely supportive and they provide an environment where we can continue to grow and improve. They are both elite athletes themselves and know what it takes to win. As I continue my career, I hope to follow in their footsteps and work hard to achieve my goals.
What excites you most about continuing your athletic journey at the varsity level within the OUA?
I am most excited to continue to compete at this level and hopefully get the opportunity to win an OUA championship.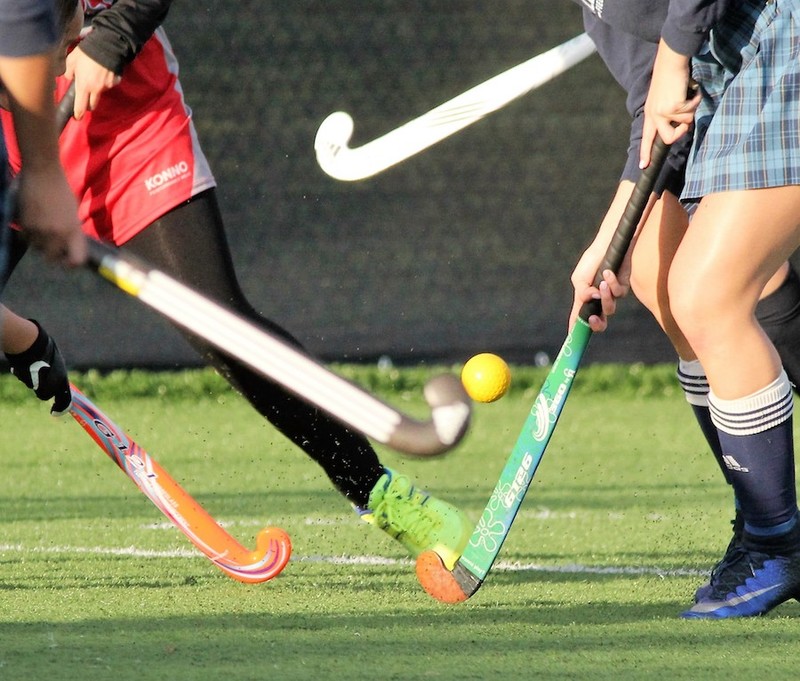 What is/are some of the more unique aspect(s) of your sport that others may not know about?
Field hockey is a right-handed sport so we don't have left-handed sticks like ice hockey. I would also describe it as a combination of ice hockey and soccer.
If someone else was looking to start playing your sport, what one piece of advice would you give them to get them started?
I would tell them to watch field hockey skills and rules videos on YouTube. Learning the rules and basic skills is extremely helpful for beginners.
What is one critical thing that you do to try to continue to experience improvement within your sport (i.e., specific drill/exercise, training regimen, routine, etc.)?
We practice as a team three times a week and we have a team workout once a week. I try to also go to the gym to strength train on practice days to maintain my fitness.
What would you say to your 10-year-old self about playing and staying in sport?
I would tell my 10-year-old self that playing sports is extremely important for your mental health. It's a good break from school and will be a huge part of your life moving forward.
Is there one strategy that you find works well for you in creating a positive student/athlete balance in your life?
I would say that time management is an essential part of being a student-athlete. It is so important to get your school work done on time if you're going to be albe to perform/play at an elite level in sport. The only way to do this is to plan and organize your assignments, exams and game schedules.
SeeWhatSheCanDo
Head to the SWSCD Athlete Advisor, your online athletic business directory. Find, rate and review programs, local community offerings and businesses that will help you do your thing.
Start a group around a physical activity in your neighbourhood. Explore events. Check out our SWSCD Hub.
Look for advice, stories, news and more on our Field Hockey activity page.
Have a sport, recreation or physical activity accomplishment you'd like to celebrate and shout out through SWSCD? Become a SWSCD member and share your story directly on SeeWhatSheCanDo. Or, simply add the hashtag #seewhatshecando to your public social media posts and SWSCD can help you inspire others around you.