Opportunity during times of uncertainty
Introducing Even Strength. The newest Canadian women's sports podcast hosted by Emily Renneberg, a dynamic, multi-talented and recent university graduate who saw a silver lining while dealing with the sudden and unexpected change in plans to the start of her professional career in finance because of the extraordinary circumstances that the COVID-19 pandemic thrust upon her. It meant a delay to her graduation ceremony from London, Ontario's Western University and made necessary a move back to the family home in Calgary, Alberta instead of beginning her career in the corporate world in Mississauga Ontario. But, it also meant a lot of extra time to sit around the kitchen table with her parents and brother talking about nurturing some of the other parts of Emily's life that fed her sense of purpose. One key area that fed Emily's passions was the world of sport.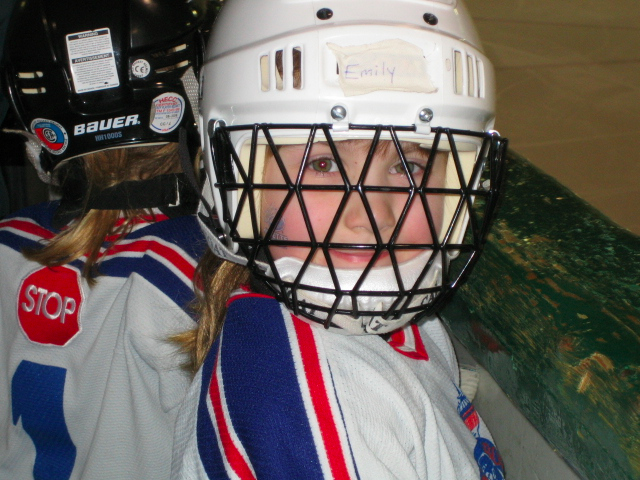 Walking, talking and living sport
From the very beginning, sport surrounded Emily's world. Her words describe best how her passion for all things active began and how it continues to take her to where she finds herself actively today.
I started in sport from the time I could basically walk. My parents, both involved in ice sports themselves, laced me into skates at the age of three and it took off from there. My mom had played ringette in her youth and joined a women's team before I was born, so naturally she wanted to see if I would take to it. Since then, I've played for 15 years, playing with Calgary AA and Central Alberta AA for most of my career.

I thrive in the fast, competitive, and quick-thinking environment that ringette fosters so well, and was (and still am) so proud that ringette is such an incredible sport for women. It's so unique in its opportunities for female athletes that it makes me so proud to be an athlete and I try to share that experience with others. Ringette has always been my main sport but my parents had my brother and I take on a spring sport too so I played box lacrosse for many years, plus some school badminton and other things here and there. Recently I've been big into climbing and experiencing the outdoors with hiking and running.
From why to why not
The influence of playing sport and how it shaped who she was to become as an adult didn't stop when her skates came off. In fact, the impact of participating in sport was so much more for her. As Emily saw it, it was about being willing to try new things and to see how her own efforts could have a positive impact on those around her.
My "expertise" is in ringette, which allowed me to branch out to other sports and give me some confidence in all aspects of my life, and I figured that if I can use my skills to make a difference, why not? Even if it's a small podcast it might make a difference to one person, which is worth it to me.
Shaped by this deep desire to try new things and get herself out there, when the opportunity to try sport broadcasting presented itself to her through the university's radio station 94.9 Radio Western, she jumped at the chance. For Emily, it was an amazing experience to be a part of a different aspect of the sport world and it even helped her fulfill a lifelong dream of being involved in the world of broadcasting sport.
I was introduced to Radio Western while I was on the ringette varsity team because I took on the role of communications with the school and creating our social media to try and garner some visibility in the university and surrounding community. I discovered that they had a sports department at the station that was A. lacking people and B. lacking women, so I decided that this would be a great opportunity for me to get involved in the local sports community and work on a dream I had had for years. As a kid, my career aspirations had always revolved around doing something with the NHL for whatever reason - sports therapist, broadcaster, or even just the anthem singer.

Life provided a much different path for me however, as I now have a Bachelor's degree in finance, but I always want to keep myself involved in sports in some capacity since it's become so much of who I am. So for two years at Western that meant also doing sports broadcasting, which was such an incredible experience that I developed a passion for immediately. I've never played a game of hockey in my life, but I like to think when I call or commentate on a game, you would never know that. I get the same "pre-game butterflies" for broadcasting a sport that I do for playing one, so it was really rewarding for me. I got to know a lot of the varsity community and athletes too so it even helped me connect more to my university.
Her involvement with Radio Western allowed Emily to flourish and grow in a multitude of ways including being a part of the growth in the number of women involved in the station's sports department. In fact, she even had the honour to be a member of Radio Western's first ever all-female play-by-play and production crew broadcast to cover two women's university ice hockey teams. It was a special moment for her and her fellow crew mates and for John Urban, the station's Director of News, Sports and Spoken Word at the time of these broadcasts. For John, the impact of making such a moment happen in the world of sports broadcasting was not lost on him.
They've pioneered a path for women in sports broadcasting and opened up the doors and the eyes of women who can now consider sport broadcasting as a career option.
To read more about Radio Western's first all-female sport broadcast, head to our coverage of this momentous day:
Radio Western - Helping Women See Themselves In The World Of Sport Broadcasting
(Photo: SeeWhatSheCanDo)
With conversation comes clarity
Fast forward to March of this year and the world effectively stopping on a dime to face a once-in-a-century world pandemic. The primary goal of all levels of governements in Canada was stopping the spread of this new and super contagious COVID-19 respiratory virus and lessening the chance of it overwhelming local hospitals. It demanded the attention of each and every Canadian and it meant significant changes and stoppages to the ways we went about our daily lives. For Emily, it meant the abrupt end to her final year of university, heading home to hunker down in the safety and security of her family home in Calgary and in the delay to the start of her first job in the working world.
The enforced isolation also meant a chance to spend a lot more quality time with her parents and her brother and the chance to have the reflective conversations around the kitchen table that often accompany such a jarring collective experience like a once-in-a-century pandemic. And it's here where her idea for a podcast was born.
I had always thought I could do a podcast and would enjoy putting that together because of my love for broadcasting, but I didn't think I had anything unique about myself or knowledge in anything worth listening to that I could bring to the podcast world. Plus with a part-time job, full-time school, playing on a ringette team, volunteering with Radio Western, and whatever else I was taking on then, I didn't have the time to put in the work to get a podcast where I wanted it to be quality-wise.

So it all kind of fell into place while I was sitting at my kitchen counter, a couple weeks into being at home with my brother and my parents and no job, thinking about how people were getting their sports content while there aren't any live sports, and it just hit me. I could do a podcast to highlight the experiences of people involved in women's sport and I suddenly had the time that I needed to make that happen. I already knew that we didn't get enough coverage, especially being a ringette player and just getting excited if someone vaguely knew what ringette was, so I did some research on what was already out there and I found that there wasn't much for women's sports. I had picked up some things while I was with Radio Western in terms of audio quality and using my voice and did a massive amount of research before recording anything, so I knew I could do the topic justice if I worked hard. I also had enough connections in the sports world that I thought I could at least get something going and build up from there.
(Photo: SeeWhatSheCanDo)
A focus on the feminine experience of sport
For Emily, the approach she's determined to take with her new podcast is decidely a feminist one. Emily is proud to call herself a feminist and her sense of self is shaped through a feminist perspective that "revolves around trying to promote and inspire equality where I can". Her values are shaped by her own experiences as a successful athlete and as an active participant in the movement to raise the profile of women in sport. One experience in particular significantly shaped her mission for the podcast and the feminist approach that she proudly embraces.
I read an article a couple years ago that talked about how women in sports are often times socialized to push away their femininity in order for people to take them seriously in the world of sport and try to get themselves into spaces where men typically dominate. That really hit me. I looked back at myself and realized that I had done exactly that for so many years of my life, especially while I was in elementary school during some pretty formative years. I actively tried to push away that side of me, so that when I said that I was a big hockey fan, I wouldn't get questioned as much. When I told people I was an athlete, they could believe it and respect my abilities in a women's sport that generally gets a lot of misconceptions.

I took that new recognition and made it a central part of my purpose with this podcast, because I want others to understand that people in women's sports are just as incredible, accomplished, and capable, and have some fantastic stories that otherwise go overlooked. And they don't need to be someone other than themselves in order to participate either. I want the podcast to be a place where people can learn about unique experiences and know that they may not be alone.
In addition to celebrating the femininity that women's participation brings to the world of sport, Emily is also focused on recognizing the value men bring and the genuine interest they have for knowing more about women in sport.
The podcast isn't just for women either, it's for everyone. And it won't just be women being interviewed, I'm making it about the community involved in women's sports to open that space up more because that is where I see the lack of content. I want to encourage diversity.
A time to be courageous
Emily's excitement to get her podcast started and have it succeed is palpable. But it would be disengeneous in sharing her particular story through sport to not recognize her efforts to overcome a sense of fear and thoughts of doubt that could have prevented her from even launching the Even Strength Podcast.
During our conversation together in mid-May for an Even Strength Podcast, we talked about what it meant to be courageous. We talked about courage representing a point where you need to be okay with feeling vulnerable yet have the faith to follow your heart and trust that the journey will be worthy and worthwhile. For Emily, her hard work and personal commitment to supporting women's sport has enabled her to find a depth of courage and the inner strength to launch the Even Strength Podcast. She finds herself on a new path to be a key part of the collective conversations that are needed to create a fair and equitable sport world. We wish her nothing but great success.
I'm really proud of what I've been able to build so far and I'm so excited to keep sharing these stories with my audience. I want to keep it going as long as possible, that would be the goal, and if someone said to me "Emily, we would like to get you out of your life in finance and get you into a life of sports broadcasting" I don't know if I could say no to that at this point! Sports have always been a major part of who I am and just being a voice in that has given me so much joy.
Even Strength Podcast - Listen in.
Listen in to the most recent Even Strength Podcasts and take some time to learn about the sport journeys of other inspirational women like Emily Renneberg.
The Even Strength Podcast can be accessed on Apple Podcasts, Spotify, and Buzzsprout.
Spotify:
Apple Podcasts:
Buzzsprout:
SeeWhatSheCanDo
Find, rate and review associations, local community offerings and businesses that will help you do your thing on our Athlete Advisor, your athletic business directory.
Post your upcoming virtual event or group in our SWSCD Hub.
Look for advice, stories, news and more on our Discover blog. We invite you to share your own pics and particular moments you've captured while walking in your neighbourhood or on a local trail directly through our Discover blog or by using #seewhatshecando on social media and inspire others to get moving.