Amanda Balson is Canada's first female Late Model stock car racing Champion. She has an insatiable need for speed and has loved the sport since she was young girl.
Amanda is a fascinating woman – both on and off the track. She has a lot to offer the sport and is looking forward to mentoring the next generation. But she is not ready to get out of the driver's seat yet – she intends to be the oldest woman racing. And I wholeheartedly believe she will be. This is what Amanda Balson does and how she does it.
Amanda Balson – born to be behind the wheel
On the weekends during race season, you will find Amanda at the Peterborough Speedway driving her (LLR Cochrane Chevy). She is #16 and her car is pink because she wants everyone to know that she drives like a girl and she belongs out there. She has worked hard to build the respect and reputation that she has as a veteran racer – not because she is a woman but because she was born to be behind the wheel.
Amanda grew up in the racing world. It's in her blood – her grandfather raced jalopies in the '40s and '50s, her father raced stock cars in the '80s, and her brother is a drag racer. When Amanda was 12 she lost her father. Her mother, who has a love for the sport as well, became Amanda's biggest supporter, which quite possibly allowed Amanda to become the driver she is today. Her mom has only missed one of her race in eighteen years.
(Photo from: Amanda Balson)
Amanda now races in Peterborough in the Late Model class and has been there for several years. This is where she met her husband – race car driver Kelly Balson. They share a passion for the sport and support each other in their pursuits behind the wheel. Likely a good thing because they understand each other's need for speed – the adrenaline fix they get every time they run the track.
How it all started
Amanda always wanted to drive and had this insatiable need for speed. When she was 4, her dad had her on snowmobiles. At 6 and 7 she was on 4-wheelers. She played around recreationally with go-karts and even then it was easy to see she just had what it takes to be a driver. People would always comment about her natural abilities on the track.
When she was 16 years old she started going back up to the track in Innisfil – the Sunset Speedway – where her dad would race. She just loved being at the track. At Sunset, you could rent out a car for $500 – a good way to generate interest in driving. Amanda rented a car twice – the guy at the track remembered seeing Amanda with her dad years ago. After seeing her potential, he told her to go find some sponsors and to consider buying her own car.
(Photo from: Amanda Balson)
So home to Aurora she went, knocking on doors to find sponsors. She came up with some good money and her mom put up the rest she needed so she could buy a car and have a trailer built. Her mom even traded in her car for a truck so Amanda would have something to pull the trailer.
She went back to Sunset and raced in the B feature. In her first outing, she finished 5th – incredible given she had had so little time behind the wheel. Again, everyone kept telling her what a natural she was…it was obvious that Amanda had something special when she took to the track.
Back then radios were not allowed in Thunder Cars – an earpiece with a team member talking throughout the race. So Amanda just drove her races by feel. Her third time out, she had a win! She completed her first season and took Rookie of the Year honours. She was 5th in points and won three main events plus many qualifiers. And that marked the start of a racing career.
The learning curve
Amanda started racing at Sunset in 1998 with little more than her natural talent for driving. She got a toolbox one Christmas that was filled with the essentials – body spray, hairbrushes and hair ties – and not a single tool! She and two girlfriends showed up at the track with this empty toolbox and a whole lot of determination. They managed to figure things out as they went along.
Each weekend, the girls would show up with their car on the trailer and their empty toolbox in hand. Early on, they noticed that everyone had the hood up, working away on something. So the girls did the same. But they just looked – didn't touch anything – because the toolbox had no tools. Each week, the girls would take the car home. But living in a house with no one to set up the car – they actually never took the car off the trailer during the week because they were afraid they wouldn't be able to get it back on again on their own.
Amanda and her friends learned by watching what the others were doing – they paid close attention and were eager to learn. Since many at Sunset still remembered Amanda's dad, the girls asked lots of questions. Everyone was great and helped them whenever they could.
After a while, having never really touched the car – aside from changing the oil – they decided that maybe they better get a little more hands on. They bought the Haynes Shop Manual from Canadian Tire for Amanda's '81 Camaro. The first thing they did was change the ball joint. This should have been a 30-minute job but it took them 7 hours. They really didn't care because they figured it out for themselves. The girls were methodical learners and so determined to do it on their own. They just kept going after more. They worked hard the entire first winter – they learned everything about the car from the ground up.
Still determined to understand more, the next stop was CSC Racing – shop in Newmarket – to buy a book called "How to Performance Drive". This was a chassis set up book. Lots of the information went over their heads but they got the terminology down. The girls would go to someone who was hands on who would come and help them do it.
It wasn't always easy to find the right help. They came across more than a few that wanted to help for the wrong reasons – but they figured that out too. They went through lots of guys to get to the right group of supporters – not always an easy go for three, young good-looking girls at a race course.
Within a couple of years they were cutting their own bodies – doing the riveting themselves. And oddly enough, when they started winning – the help seemed to stop. The consensus was that these girls really did know what they were doing.
Keys to success
Equipment: Racing cars is a unique sport – a very expensive, unique sport. If you have money – and lots of it – or if you find the right supporters, you can buy yourself some good equipment. But equipment alone isn't enough to win – a driver needs to know how to handle the car to be successful. Amanda's equipment is solid – it may not be top of the line but she knows how to handle the car to be successful. There are several other factors that have contributed along the way to Amanda's success.
Preparation: Being prepared is an important aspect of Amanda's success. She prepares by watching You Tube videos. She watches her competition – checks out videos of their weekly races to see their moves, their weaknesses and how they react in various situations. Videos are a great way to see another driver's style of driving – how close he crowds, how he might rough her up, how he reacts to pressure. Paying attention to these details creates opportunities on the track.
She watches her own races too to see what she did, where she could improve and where she can learn. She is at the point in her career where she can accept that if she makes a mistake she is going to learn from it.
Patience: For Amanda, patience has come with experience. Other drivers have taught her the art of being patient. Her husband Kelly is a good inspiration – he is a great driver and he is the one on her radio keeping her focused on her task as she drives. Strategy and having the patience to know when to make your move are all part of being a great driver.
Physical Fitness: Being physically fit does play a role in the success of a driver. Accidents are part of the sport. This is where being physically fit can help you to recover from a crash quicker and return to the track sooner. And being fit can help with managing the heat in the car during a race. To stay fit Amanda does yoga, weight training, and pitches in a ladies fastball league. She also loves to kayak – and not surprisingly she paddles hard so she can get that kayak moving as fast as she can!
Mental Fitness: And almost as important as being physically fit is being mentally fit. Amanda knows what to do to be mentally prepared for her races. She visuals the track – goes through the race in her mind. She visualizes, listens and feels the track. Amanda was taught to use her mind – to close her eyes and hear things like when to step on the gas, be on the gas a little longer. She sat in the middle of the track and listened to drivers. She copied the things she heard and it paid off with wins. Being able to be patient, visualizing the track and being prepared have all paid huge dividends in her success as a driver.
Supports: The right support system is invaluable to a driver. Amanda's mom was there for her at every turn – when she bought her first car, when she needed a truck to pull that car, when she looks up in the stands and sees her mom cheering. As mentioned earlier, her mom has only ever missed one of Amanda's races. Having the right team is instrumental too. Amanda and her husband Kelly have an amazing crew – they are like family. They are the chassis-gurus who know their math, know their equipment and are invaluable to the racing successes both have seen.
Pure talent: Amanda also has something that you can't teach – a natural ability to drive and handle a car. This sets her apart from others. She is comfortable behind the wheel, comfortable handling the machine. She has instincts for the sport that others don't have. She has been able to translate this ability into a very successful career.
Amanda the veteran
Amanda has earned her spot as a veteran on the track. She has the respect of other drivers – she belongs out there just like any other driver. She is there doing what she loves – for the adrenaline rush and because she has a natural talent for handling the car. She no longer has to prove she belongs or fight for respect.
Giving back
Amanda is ready to give back to the sport that she so loves. As was done for her, she wants to mentor, inspire and pay it forward. She is ready to share her knowledge with a young girl and pass on all she has accumulated over the past two decades. She is a role model for the sport and has earned her spot as a veteran on the track.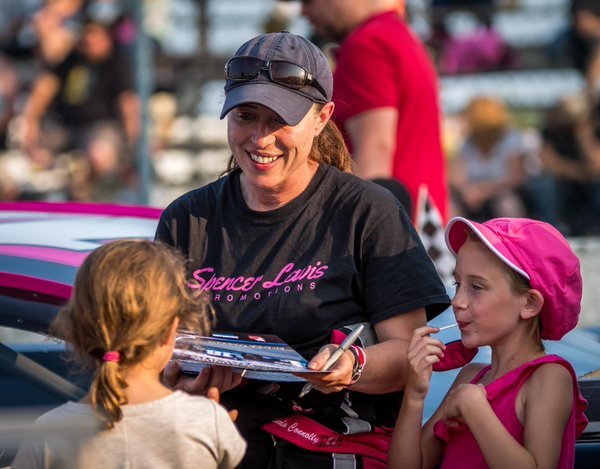 (Photo from: Amanda Balson)
There are many women around the sport now but it is not very accessible unless you have money – and lots of it – more than when she first started out. And you always need to be aware. There are lots of people out there that will take your money. Amanda can point these young women in the right direction and help them find the right supports they need to get started.
Amanda is an excellent resource, with so much information to share. She wants to help the next generation of drivers – young women in particular – to get involved and love the sport that has given her so much.
Drive like a girl and "do what you do"
When Amanda was getting started on the racing scene, all she wanted to do was show she could drive like the men did. It was important to her and seemed like an acceptance into this very male-dominated sport. Then somewhere in her mid '30s she became aware of the Always #LikeAGirl campaign that was launched to give girls the confidence to be who they are and do what they do no matter what. Now Amanda owns her "like a girl" image and hasn't looked back.
Amanda sees lots of young girls at the track. They recognize her and watch her. She tells them to "do what you do" every chance she gets. She is a strong, female role model and she is doing it by driving like a girl in her pink car. She is all about doing what you do because you can, because you like it, and because you have fun.
Amanda is happy to say that she plays ball like a girl, rides like a girl, and most importantly she drives like a girl!
Find a speedway
Interested in watching a race or trying a driving school? The following link can help you fulfill your need for speed:
Canadian Paved Oval Track Listing
Ontario Stock Car Association of Asphalt Racers (OSCAAR) – links to tracks in Ontario
SeeWhatSheCanDo
Check out Athlete Advisor – your online business directory for all things active. Rate and review your favourite speedway or track. See what others have to say about ones you'd like to check out.
Find racing events. Start a group. Visit our SWSCD Hub.
Find fresh thinking, inspiring articles and advice on how to keep active. Visit SWSCD Discover blog to see what other women like Amanda are up to.
If you race cars, share your experiences with others directly on our Discover blog or by using #seewhatshecando through social media. You just may be the inspiration someone else needs to give it a try.