The 2019 FIFA Women's World Cup is here and the event's country host, France, is ready to welcome soccer fans from across the world.
FIFA, or the Fédération Internationale de Football Association, is the international governing body that hosts the Women's World Cup. The FIFA Women's World Cup first began in 1991 and subsequent World Cup events happen every four years. This year's event involves 24 teams representing countries found on almost all of the world's continents. The first five days of the tournament focus on the round-robin play between teams within each of the six (A-F) groups of teams. The remaining days of the tournament involve knockout play culminating with semi-final and final games.
Prior FIFA Women's World Cup Winners

2015 - USA
2011 - Japan
2007 - Germany
2003 - Germany
1999 - USA
1995 - Norway
1991 - USA

Canada's best performances at the FIFA Women's World Cup over its history is a fourth place finish in 2003 (4/16) and making it to the quarter-finals in 2015 (6/24).
Fans of all 24 teams playing in this year's event are primed and pumped to cheer on the teams in all kinds of ways. Whether you're a fan who's planning to take in some games live in person or through televised coverage and live-streaming platforms, keep this go-to guide handy. It's a comprehensive resource for all 24 countries…whether you're cheering for the country you live in or the one your family comes from (or both!)...you'll find it all here.
The SWSCD Go-To Guide to the 2019 FIFA Women's World Cup
Dates of the 2019 FIFA Women's World Cup
June 7th - July 7th, 2019
Host Country and Venue Cities
France is the host country of the 2019 FIFA Women's World Cup. The cities that will host the event's scheduled games include:
Game Schedule
Play between teams within each grouping will take place from June 7th until June 20th and are scheduled to be played across all nine host cities. The game schedule for all groupings can be found here.
Once group standings have been determined through Group match play, Knockout play will then begin June 22nd. The Knockout games will take place on the following dates:
Round of 16:
June 22nd until June 25th
Quarter Finals:
June 27th until June 29th
Semi-Finals:
July 2nd and July 3rd in Lyon
Match for Third Place:
July 6th in Nice
Final:
July 7th in Lyon
Broadcast Schedule
All 2019 FIFA Women's World Cup Canadian broadcast coverage will be available through the CTV and TSN television networks. Head here to find general information around their coverage by both networks throughout the duration of the event. Their schedule of televised game times can also be found here.
Canada Soccer Social Media Tags & Hashtags
Facebook: @canadasoccer
Twitter: @CanadaSoccerEN
Hashtags: #CANWNT, #TogetherWeRise
FIFA 2019 Women's World Cup Social Media Tags & Hashtags
Facebook: @fifawomensworldcup
Twitter: @FIFAWWC
Instagram: @fifaworldcup
Hashtags: #FIFAWWC, #DareToShine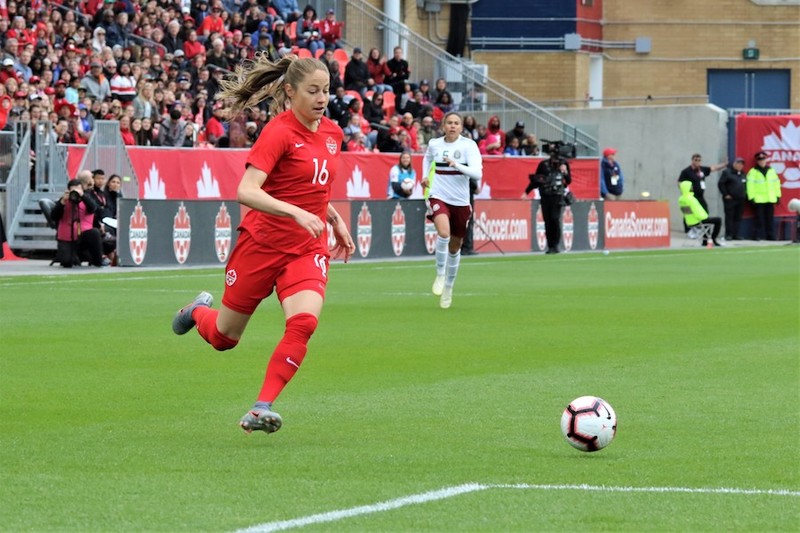 Team Groupings and Rosters
Group A: France, Korean Republic, Norway, Nigeria
Group B: Germany, China PR, Spain, South Africa
Group C: Australia, Italy, Brazil, Jamaica
Group D: England, Scotland, Argentina, Japan
Group E: Canada, Cameroon, New Zealand, Netherlands
Group F: USA, Thailand, Chile, Sweden
Group A:
Nigeria
Group B:
Spain
Group C:
Group D:
Argentina
Group E:
Group F:
SeeWhatSheCanDo
Find Canada Soccer in our Athlete Advisor, your online athletic business directory. Find, rate and review programs, local community offerings and businesses that will help you do your thing.
Post your upcoming soccer tournament in our SWSCD Hub. Find or start a soccer group in our SWSCD Hub.
Look for advice, stories, news and more on our Soccer activity page.
Have your own soccer memory or moment you'd like to celebrate? Share your highlights directly on our Discover blog or by using #seewhatshecando on social media and inspire others to get in the game.